Anna & Zack: A Winning Team at the DVG Bundessiegerprüfung 2023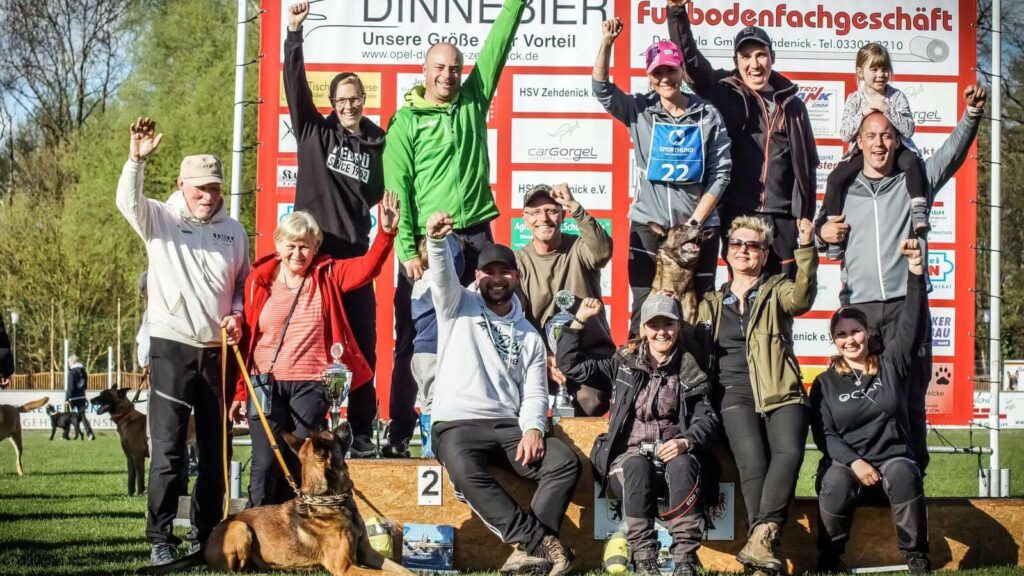 The DVG Bundessiegerprüfung 2023 in Berlin was an exciting event for all involved, but especially for Anna and her loyal Malinois companion, Zack. Anna and Zack competed in the IGP trial and came out on top, winning first place in a highly competitive field.

Anna and Zack's journey to the top of the podium began early on Saturday morning when they started with the Obedience routine. Despite some minor mistakes, Anna and Zack were able to score an impressive 95 points. Their routine was met with applause and cheers from the audience, and it was clear that they had set a high bar for the other competitors to follow.

Next up was the protection phase, and Zack really shone. He displayed incredible power and impressive work, and the judges were impressed with his performance. With these two excellent results on day one, Anna and Zack were in the lead going into the final day of competition.

Sunday was a nerve-wracking day for Anna and Zack, as they needed to score 97 points in the tracking phase to secure the win. But they were not fazed by the pressure and delivered an outstanding performance, earning the necessary points to take home the top prize.

Anna and Zack's success at the DVG Bundessiegerprüfung 2023 was not just a testament to their hard work and training, but also to the support and encouragement they received from their friends. Claudia, Peter, Belinda, Linda, Jesse, Kim, and Dennis all came to cheer them on, and they had many great evenings together throughout the competition.

In conclusion, Anna and Zack are a winning team, and their triumph at the DVG Bundessiegerprüfung 2023 is proof of their talent, dedication, and teamwork. We congratulate them on their well-deserved victory and wish them continued success in their future competitions.

For anyone who is interested in learning more about the journey that Anna and Zack took to win the DVG German Championship, our Online Academy sounds like an excellent resource.

The Online Academy offers a unique opportunity to follow the journey of working dogs like Zack, from their puppyhood to their success at the DVG German Championship. The Academy provides a comprehensive training program covering all aspects of tracking, Obedience, and protection work.
If you are interested in learning more about working dogs and their training, the 5-day free trial is an excellent chance to explore the Academy's resources and see if it's the right fit for them. The Academy's approach to training is thorough and professional, and it has helped many people develop successful working dogs like Anna and Zack.

By offering this program, the Academy is contributing to the advancement of the field of working dogs, providing a valuable resource for trainers, handlers, and dog enthusiasts alike. Anyone who wants to learn more about working dogs and their training should consider checking out the Academy's website and signing up for the free trial. With their help, they could be on the path to training a successful working dog.